Board of Directors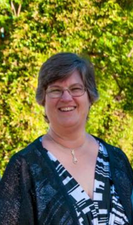 Tere La Giusa, Board Member
Tere has spent over 25 years serving the youth of the Santa Clarita Valley. She holds a Bachelors degrees in Spanish Language from Brigham Young University. She is a Gay-Straight Alliance faculty co-adviser and has worked to support and advocate for LGBT+ youth through the Santa Clarita Chapter of PFLAG and joining forces with The OUTreach Center. Along with serving as a resource to youth who do not have a high school Gay-Straight Alliance Club, serving on the steering committee for the Santa Clarita Valley "Give 'Em Hope" BBQ, and working to make sure youth can attend "Models of Pride" a LGBT+ Youth Conference put on by the Los Angeles LGBT Center, has fundraised thousands of dollars to bring Santa Clairta LGBT+ and Ally youth to The OUTreach Center Youth Prom since it's inception in 2013. Tere was the recipient of the 2016 Rolfe-Uribe Model Of Pride Award given to a Los Angeles area LGBTA or Ally adult who has sought to use their life to make the world a better place for members of the LQBTQ+ community. Tere brings her experience with youth, fundraising and working with other non-profit organizations to The OUTreach Center.
Send Tere an email
---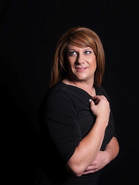 Allison Blaylock, Board Member, Transgender Support Contact Person
Allison is a graduate of Quartz Hill High School. She got her Bachelor of Science degree in Accounting from Colorado Tech and us a veteran of the U.S. Marine Corps. She has served as a volunteer in the LGBT+ community since 2015, and has run support groups, helped various campaigns, and lobbied for LGBT+ rights. She is an advocate for the entire LGBT+ community with special focus on transgender related issues. In 2016, she began writing an advice column for The Gayly again specializing in transgender issues. Allison has been involved in LGBT+ community in Oklahoma and Southern California.
Send Allison an email
---

James Trumps, MA.E, M.Ed.,
Jim has spent over 20 years serving the youth of the Antelope Valley. He holds Masters degrees in Administration and Curriculum & Instruction from California State University, Bakersfield and Chapman University. He is a local Gay-Straight Alliance faculty adviser and has worked to advance LGBT rights through the California Teacher's Association. Jim brings his experience with technology, youth, and finances to The OUTreach Center.
Send Jim an email
---

---
---
---