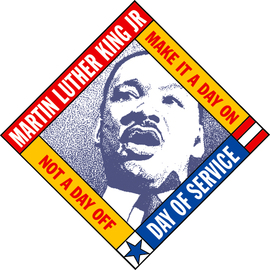 Martin Luther King Jr. Day of Service
Join The OUTreach Center at the Elm Community Garden on Saturday, January 17 from 9:30 a.m. – 3 p.m. located at 44738-1/2 Elm Avenue, Lancaster, CA 93534. Volunteers will beautify the community garden with art and maintain existing planter beds. The community garden benefits homeless and low income communities. Activities and gardening classes are hosted year round.

Martin Luther King, Jr. Day of Service is an opportunity for the entire community to join together in the spirit of his legacy to help shape and transform the City through service. In 1994 Congress passed the King Holiday and Service Act, designating the King Holiday as a national day of volunteer service. Instead of a day off from work or school, Congress asked Americans of all backgrounds and ages to celebrate Dr. King's legacy by turning community concerns into citizen action.

Please download, print, complete and bring the below Agreement for Non-Compensated Services to the Elm Community Garden with you on the day of the service project.

If you have any questions, please feel free to call The OUTreach Center at (661) 92-PRIDE.