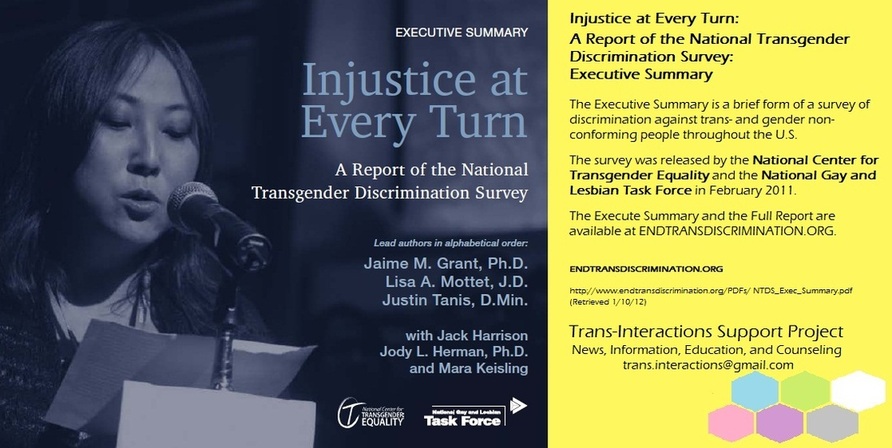 In a first-of-its-kind survey of discrimination against trans- and gender non-conforming (T-GNC) people, the
National Center for Transgender Equality
and the
National Gay and Lesbian TaskForce
have collaborated to produce
Injustice at Every Turn: A Report of the National Transgender Discrimination Survey (2011)
. The survey, released in February 2011, consisted of 6,450 T-GNC participants from all 50 states, the District of Columbia, Puerto Rico, Guam, and the U.S. Virgin Islands and has provided data for civic leaders and activists for the cause of equality.
The original report is a 228-page document, but a summary of the 8-page
Executive Summary (2011)
reveals these key and other startling findings:
A.
Key Findings (See FIGURE 1)
1. T-GNC people of color fare worse than their white counterparts.
2. T-GNC people are four times more likely to live in poverty (less than $10,000 annual income).
3. 41% of respondents attempted suicide compared to 1.6% of the general population.
B.
Harassment and Discrimination in Education
T-GNC youth, in grades K-12 reported harassment (78%), physical assault (35%), and sexual violence (12%), causing 15% to leave school.
C.
Employment Discrimination and Economic Insecurity
T-GNC individuals reported double the rate of unemployment; workplace harassment (50%); being fired, not hired, or denied a promotion (47%) resulting in four times the rate of homelessness. 16% reported being compelled to work in the underground economy (sex work/selling drugs).
D.
Housing Discrimination and Homelessness
T-GNC individuals reported less than half the rate of home ownership (32%, compared to 67% of the general population), being refused a home or apartment (19%), and being evicted (%11). 19% reported experiencing homelessness, and 55% reported harassment from shelter staff or residents.
E.
Discrimination in Public Accommodations
53% reported verbal harassment in public places such as restaurants, hotels, buses, or government agencies, and 22% reported being denied equal treatment a by a government agency or official.
F.
Barriers to Receiving Updated ID Documents
Among those who had transitioned gender, 21% were able to transition all of their documentation and 33% had transitioned none of their documentation. 41% reported not having documentation that matches their identity.
G.
Abuse by Police and in Prison
T-GNC individuals reported being harassed by police (22%) and discomfort with seeking police assistance (46%). In jail, T-GNC individuals reported physical assault (16%) and sexual assault (15%)
H.
Discrimination in Healthcare and Poor Health Outcomes
19% of respondents reported being refused medical care, and postponing medical care (28% due to discrimination, 48% due to an inability to afford care). T-GNC individuals reported four times the national average of HIV infection.
I.
Cumulative Discrimination
63% reported having experienced a serious act of discrimination resulting in a major impact on quality of life and ability to financially or emotionally sustain oneself. 23% reported catastrophic acts of discrimination by having experienced three or more events due to their T-GNC identity from the list below:
Loss of job Eviction Teacher bullying
Physical assault Sexual assault Homelessness
Family rejection Incarceration Denial of medical service
Dropping out of school due to bullying/harassment
FIGURE 1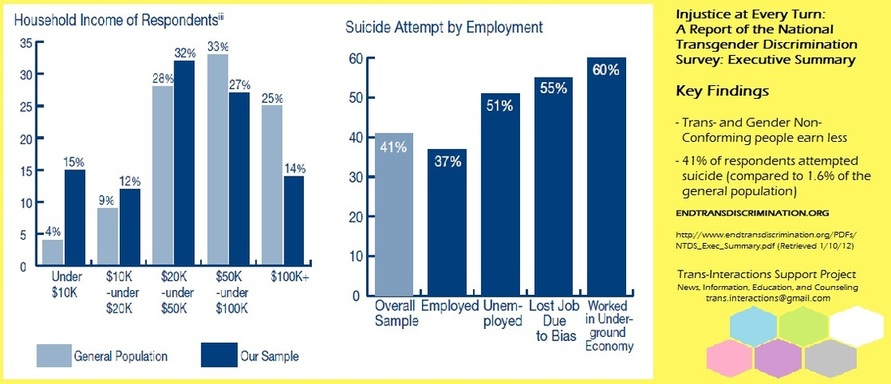 Despite all of the discrimination and harassment, the survey has revealed protective factors for T-GNC people:

A. Family Acceptance of Great Importance (See Figure 2)

43% of T-GNC individuals reported family acceptance (57% family rejection). Family acceptance was shown to have a protective effect most notably in the prevention of suicide (19% reduction), homelessness (17% reduction), and substance abuse (13% reduction).

B. Resilience

76% of all respondents who wanted hormone therapy were able to receive it. Many respondents were able to get an education by returning to school between the ages of 25-44 (22% compared with 7% of the general population returning to school within that age range). 78% reported increased comfort and job performance in the workplace after transitioning, and, of those who lost their jobs, 58% reported being currently employed. 94% who reported housing discrimination were currently housed.

This survey is generating national awareness of the plight of trans- and gender non-conforming people throughout the U.S. Needed thought, education, and discourse is gaining national momentum. However, civil rights legislation is only beginning to address this inequality and discrimination.


FIGURE 2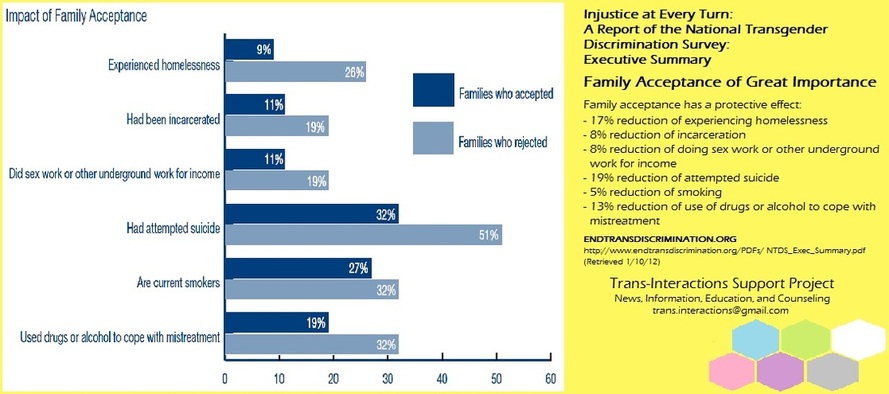 National Center for Transgender Equality and National Gay and Lesbian Task Force. (2011, February 2).
Injustice at Every Turn: A report of the national transgender discrimination survey.
Retrieved January 10, 2012, from
http://www.endtransdiscrimination.org/
PDFs/NTDS_Report.pdf
National Center for Transgender Equality and National Gay and Lesbian Task Force. (2011, February 3).
Injustice at Every Turn: A report of the national transgender discrimination survey: Executive summary
. Retrieved January 10, 2012, from http:// www.
endtransdiscrimination.org
/PDFs/ NTDS_Exec_Summary.pdf
---
---